CRYSTAL HEALING AND MEDITATION STONES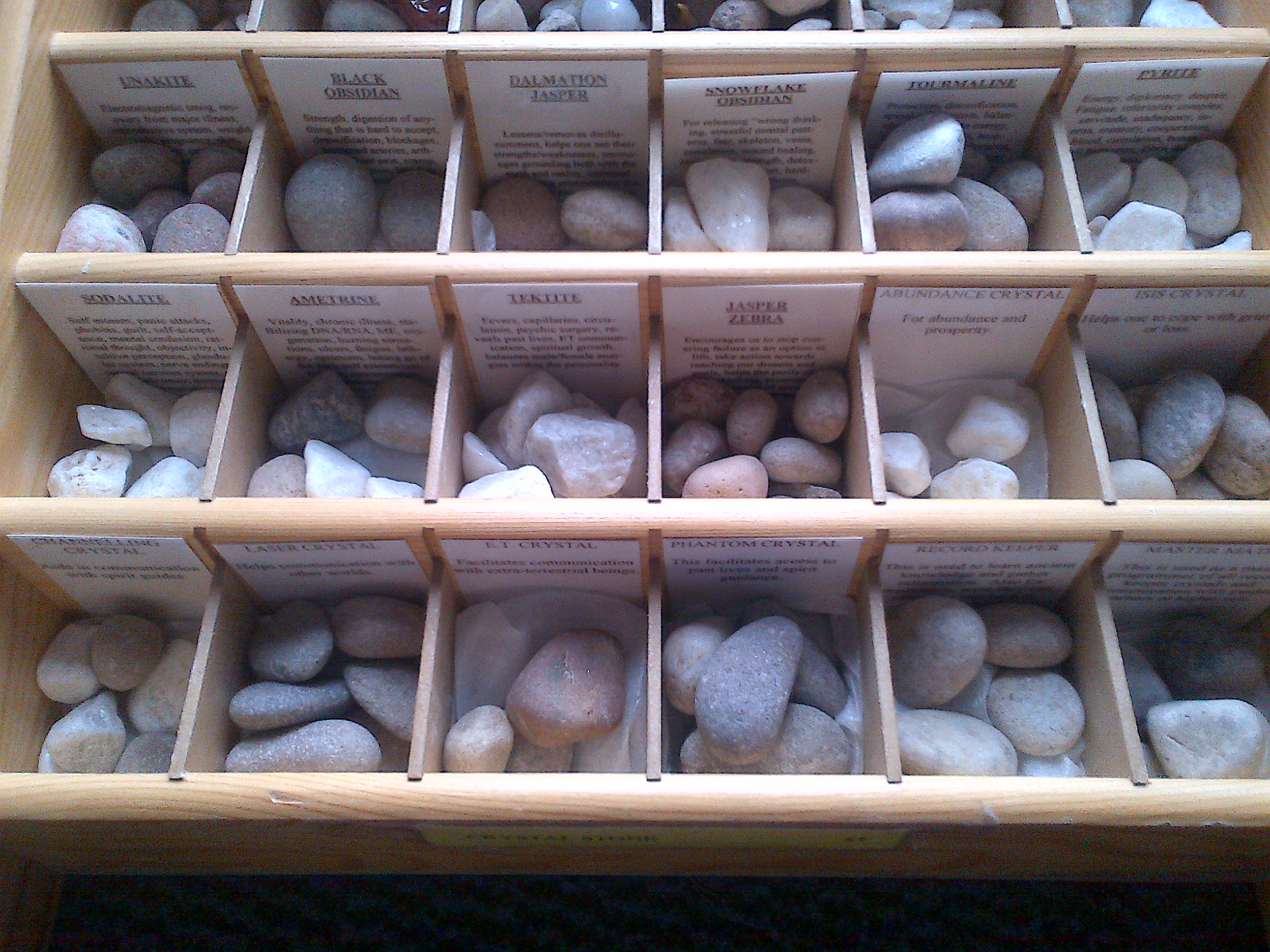 Only £1.50 each plus £1.50 p&p per stone (UK deliveries only)
It is now possible to give a powerful crystal healing without the use of physical crystals been used and in fact ethereal crystals are much stronger than those that can be found here within Mother Earth, sometimes up to 400% more.
I can now create any ethereal crystal and place the crystals energy into any stone that you choose, or you can purchase one of my own created crystal stones direct from me.
The bonus to using these crystals is not only their strength, but the fact they are not taken from the Earth so they suffer no trauma from been man mined. Neither do they have to be cleansed like regular crystals as they will not absorb negative energies.
Listed below are just a few crystals, their chakra relevance and their energies and how they can help you. I can put these energies into your own personally picked stones by you simply emailing me a picture, or you can purchase my own energized stones to work with? This unique way of having crystal energy in your own stone is just £1.00 per stone, if you require any of mine then p&p will be added for your delivery too.
Please note it is not just the crystal energies listed on this page that I can place into a stone to help you, but any crystals energy of your choice.To order email - spiritualhart1@aol.co.uk
AMBER – Solar
Memory/Intellect, Good luck, Protection, Throat, Heart, Hormones, Kidneys, Bladder, Acne, Constipation, Schizophrenia, Asthma, Emotional Blockages
AMETHYST – Crown
Hearing, Insomnia, Headaches/Migraines, Acne, Bones, Asthma, Blood Clots, Heart , Stomach, Skin, Teeth, OCD, Liver, Addictions
AQUA MARINE – Throat
Kidneys, Lymph, Body Fluids, Blood, Teeth, Eyes, Swollen, Glands
AVENTURINE – Heart
Muscles, Lungs, Heart, Adrenal Glands
MORGANITE – Heart
Asthma, Emphysema, TB
BLUE LACE AGATE – Throat
Eyesight, Speech, Nails, Pancreas, Arthritis, Stammers, Trapped Nerves, Skin Growth
GREEN CALCITE – Heart
Anxiety, Panic Attacks, Infections
CLEAR QUARTZ - ALL
Diabetes, Ear infection, Hearing/Balance, Malaise, MS, ME, Pain/Discomfort, Spinal health, Tinnitus
ORANGE CARNELIAN – Sacral
Digestion, Gall Bladder, Liver, Lungs, Kidneys, Spleen, Pancreas, Spine, Thyroid, Asthma, Hay Fever, Colds, Bronchitis, Neuralgia, ME, Lethargy, Jaundice, Cuts
CHRYSOCOLLA – Heart
Hips, Joints, Pancreas, Thyroid, Muscles, Lungs, Arthritis, Period Pains, PMS, High Blood Pressure, Muscle Cramps, Lung Conditions
CITRINE – Solar
Eye Sight, Heart, Kidneys, Thyroid, Thymus, Liver, Anaemiaa, Jaundice, Nausea, Vomiting
KUNZITE – Heart
B/Pressure, Lungs, PMT, Period Pains, Energy Blocks
RUBY – Heart
Healthy Menstrual Cycle/Immune System, Anaemia, Low Blood Pressure, Fever, Embryo's
ZOISITE – Heart
Heart, Spleen, Pancreas, Lungs, Laziness
EMERALD – Heart
Eyesight, Kidneys, Liver, Bile Ducts, Bones, Teeth, Heart, Immune System, Insect Bites, High BP, Asthma, Inflammation, Jaundice, Sores, Angina
HEMATITE – Base
Spleen, Blood, Backache, Anaemia, Broken Bones, Blood Clots, Insomnia, Cramps, ME
RED JASPER – Base
Prevents Illness
BOTSWANA AGATE - ALL
Stop smoking, addictions, skin disorders, digestive system, stomach, eyes
MALACHITE – Heart
Eyesight, Pancreas, Pituitary Gland, Blood, Heart, Teeth, Spleen, Immune System
ROSE QUARTZ – Heart
Adrenal Glands, Heart, Blood, Circulation, Kidneys
RUBY – Heart
Anaemia, Blood Loss/Cleansing/Detox, Low BP, Fever
DIAMOND - ALL
Sight, metabolism, recovery from poison, negativity, cowardice, childhood issues, anger
SODALITE – Brow
Metabolism, Lymphatic System, Confusion, Fear
TURQUOISE – Throat
Muscles, Circulation, Lungs, Throat, Emotional Balance
ALEXANDRITE – Heart
Spleen, Testicles, Pancreas, Parkinsons, Dementia
AMAZONITE – Heart
Heart, Nerves, Nervous System, Schizophrenia
AZURITE – Throat
Blood Strength, Nervous System, Arthritis
BLOODSTONE – Heart
Ridding Toxins, Joints, Kidneys, Liver, Hips Spleen, Blood, Bone Marrow
RED GARNET – Heart
Anaemia, Arthritis, Rheumatism, Vitamins A/D/E
JADE – Heart
Skin, Hair, Bones, Joints/Hips, Spleen, Bladder, Heart, Immune System, Gall Bladder, Kidneys, Muscles
LAPIS LAZULI – Brow
Throat, Thymus/Thyroid, Bone/Marrow
MOONSTONE – Sacral
Circulation, Skin, Hair, Eyes, Pituitary Gland, Fertility
PERIDOT – Heart
Colon, Heart, Lungs, Spleen, Pancreas, Intestines, Liver, Gall Bladder
PYRITE – Solar
Bones, Lungs, Cell Formation, Circulation, Digestion
BLUE SAPPHIRE – Brow
Stomach, Heart, Hormones, Glands, Emotional Balance
CHAROITE – Crown
General Aches/Pains, Headaches, Autism, ADHD, Liver/PancreaticDamage
SUGILITE – Crown
Whole Body Healing, Adrenal/Pineal/Pituitary Glands
RHODOCHROSITE – Heart
Spleen, Heart, Circulation, Kidneys
OBSIDIAN SNOWFLAKE – Base
Unblocking Stomach/Sinus Meridians, Veins, Bones, Eyes, Skin
APACHE TEAR – Base
Knees, Vitamin C/D Deficiencies
TEKTITE – Crown
Circulation, Fertility, Fever
LARIMAR – Heart
Cartilage, Hair, Feet
LABRADORITE – Crown
Digestion, Eyes, Warts, Anxiety, Stress
MASTER CRYSTALS AND USES
ABUNDANCE CRYSTAL
For abundance and prosperity
ISIS CRYSTAL
Helps one to cope with grief or loss
CHANNELLING CRYSTAL
Aids in communication with spirit guides
WARRIOR CRYSTAL
Enhances personal truths, integrity and helps one to live a right minded life and to know the warrior within
LASER CRYSTAL
Helps communication with other worlds
NEEDLE CRYSTAL
Helps to balance scattered energy patterns
GENERATOR CRYSTAL
Helps to stimulate telepathic communication, especially in groups of healers and teachers
KEY CRYSTAL
This is used to unlock the doors to healing or psychic awareness, also helps you to access missing information
E.T. CRYSTAL
Facilitates communication with extra-terrestrial beings
PHANTOM CRYSTAL
This facilitates access to past lives and spirit guidance
CRYSTAL CLUSTER
Enhances peace and harmony within a group, family, social or business environment
MASTER MATRIX CRYSTAL
This is used as a master programmer of all record keeper crystals and communication with guides, teachers or higher self
DOLPHIN CRYSTAL
Helps us learn to recieve abundance and to nurture ourselves as well as others. Assists in working with all traumas, including abuse
RECORD KEEPER CRYSTAL
This is used to learn ancient knowledge and gather information. Also for meditation, were they can often take you back to ancient times
TWIN FLAME CRYSTAL
This is used to attract like minded spiritual companions
TIME LINK CRYSTAL
Teaches patience and reminds you to give yourself time. Assists in managing ones time which can aid tremendously in telepathic communication, can assist in past ans parallel life recall
All gifts can be purchased through PAY PAL, payments to - spiritualhart1@aol.co.uk Credit card payments accepted through Paypal too.
To order email - spiritualhart1@aol.co.uk
Blessings
Spiritualhart
email - spiritualhart1@aol.co.uk